Cycling the Pilgrim's Veracruz Rail Trail
From the millenary Orchards of Murcia to the Holy City of Caravaca de la Cruz, while crossing fields and vineyards.
Thematic:
Family
Food and Wine
Nature
Traditions and Culture
Location:
Northwest county (Region of Murcia, Eastern Spain)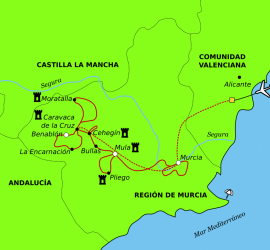 Downloads:

General Conditions of Sale

How to book
Need more information?
Need more information?
En savoir plus?